Seafood to Go in Freeport, ME
At Mainely Seafood Company, we are a full-service seafood store and also offer a seafood restaurant and seafood to go. No matter if you need to grab a meal or enjoy lunch on our patio, we invite you to visit us in Freeport ME today. We offer a focused but full menu and carry everything you need to enjoy a good meal.
Call Now Contact Us Menu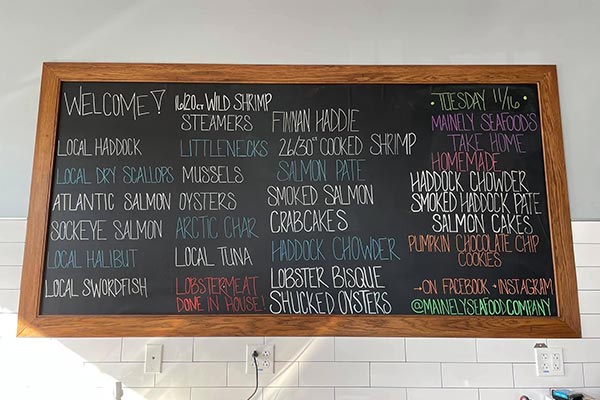 Our Menu
As a seafood specialist, we pride ourselves on offering the best and freshest seafood available. Our menu offers fresh seafood, drinks, and side dishes for you to enjoy. Some of our food choices include the following.
Drinks include water, juices, root beer, lemonade, root blueberry soda, iced tea, and other options.
Food choices include sandwiches such as bacon cheddar tomato grilled cheese, grilled cheese, and haddock sandwiches just to name some of our most popular choices.
For lovers of hardy dishes consider some of our haddock chowder, seafood stew, corn chowder, crab rolls, or bagels with butter or a smoked salmon spread.
We also offer seaweed salads and a soup and salad combo for a light lunch.
Finally for dessert enjoy soft-serve or hard-serve ice cream, shakes, sundaes, waffle cones, and other tasty treats.
Also, be sure to enjoy our famous lobster rolls complete with chips and coleslaw.
MENU
The Classics:
Lobster Roll $MP
Crab Roll $17.99
Crabster Roll $22.99
Complete with coleslaw, chips, and a pickle
Maine's Finest Steamed Specials:
1 1/4 lb Maine Lobstah' $MP
Softshell. Clams $MP
Bang Island Mussels $MP
Steamed Trio $MP (Lobster, Steamers., and Mussels)
Complete with butter and coleslaw
Gourmet Grilled Cheeses:
The Classic $8.99
The Cheesy Lobster $MP
The BLT $9.99
The BCT $10.99
The Cheesy Crab $14.99 .
The Cheesy Crabster $21.99
Complete with coleslaw, chips, and a pickle
Hydration $1.50-$2.25
Maine Root Root Beer
Maine Root Blueberry
Arizona Ice Tea
Oakhurst Lemonade
Oakhurst Raspberry
Lemonade
Poland Spring Water
Made daily with fresh steamed lobster, we are the only place in town that steams your lobster meat daily!
Takeaway
We also offer takeaway for those on the move so if you need to pick up an order to go by all means come by and order your favorite kinds of seafood for carry-out. Our takeaway menu also serves the same delicious foods you can order on our sit-down menu with the convenience of being a takeaway meal.
This is Chef Courtney creating some great specials!
Visit Us Today
If you want the freshest high-quality seafood visit us today to enjoy a good meal in person or to take back home. Also, don't miss the chance to order fresh seafood to help prepare a one-of-a-kind dinner at home or some of our locally made Gifford's ice cream. We are open Tuesday through Saturday10:00 am to 6:00 pm. We look forward to your business and look forward to serving you.